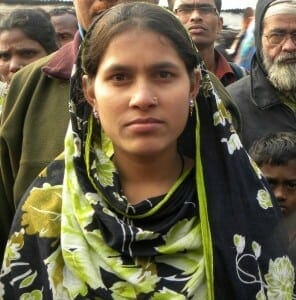 First of all, I hope that you and your family had a very merry and Christ-filled Christmas! Your prayer support is a blessing to me, our team here at WIW, and especially the women leaders we serve in the 10/40 Window!
Tomorrow our advocacy team including Michelle McCormick, Diane Serrano, and Dr. Peggy Banks will depart for India. Women in the Window International will partner with the Evangelical Fellowship of India (EFI Women) to launch their efforts in equipping and empowering women leaders to build the Kingdom of God and to co-sponsor their upcoming National Women's Conference.
The conference theme is "Godly Woman: An Agent of Transformation" based on Psalm 68:11, which says, "The Lord gave the command and many women carried the news." We are expecting about 250 prominent and potential women leaders from various church denominations and ministry organizations representing different regions of India. This conference experience will surely bless each woman leader personally and enhance their vision to make their ministries even more fruitful. We are honored to co-sponsor this event!
Peggy will present an overview of the "Image of Hope" seminar she originally wrote for her doctoral dissertation, and Michelle and Diane will present Women in the Window International. An advocacy survey written by our team will also be available for participants. Our hope is to gain valuable insight from survey results to guide and enhance our future advocacy efforts.
Additionally, our team will travel to Bangalore to lead an "Image of Hope" seminar for women leaders serving with Oasis India. Peggy will facilitate this seminar sponsored by her home church, Northwest Bible Church in Dallas, and Michelle and Diane will assist. The "Image of Hope" seminar will include spiritual disciplines and team-building for these women who tirelessly advocate for women and girls rescued from the streets and brothels. Our goal is to strengthen and equip these women leaders with renewed hope as they press on with their anti-trafficking programs.
Thank you for your prayer support for our India team! We will keep you fully informed of their progress here and will also post updates and photos on our Facebook page. Blessings to you and yours in the New Year!
In Christ's service,
Kim
Parting Reflections & Prayer Requests
As Michelle, Diane, and Peggy prepare to depart, they are thinking about the women who will attend the conferences, especially the known hardships they face.
Please pray for smooth travel for the attendees, that their hearts will be awakened to the beauty and power of the Gospel, and that their faith will be strengthened through their participation.
Please pray that our team will depart with joy and excitement for what God will do in their midst in the coming days, and that they will arrive safely in India.
Finally, please pray that God will give their loved ones an assurance that He will bless their efforts in India, and a peace that He will bring them safely home again on January 14th.