But let all who take refuge and put their trust in You rejoice,
Let them ever sing for joy; Because You cover and shelter them,
Let those who love Your name be joyful and exult in You.

Psalm 5:11 Amplified Bible
This and That
These two simple words are often used together to describe conversation that covers a wide array of topics. For example, "they talked freely and endlessly throughout the evening about this and that. But, today, I want to draw your attention to a very important reference to this and that found in the Bible:
"For this reason at that time, certain Chaldeans came forward and brought charges against the Jews." Daniel 3:8 NASB.
Who are these Jews? None other than Shadrach, Meshach, and Abednego. You may well remember their story and how these malicious charges incurred the wrath of King Nebuchadnezzar and landed them in the midst of the furnace of blazing fire intended to bring about their demise. Why? Because they refused to worship the king and his golden idol. They worshiped the Lord our God and Him alone they served. They were thrown into the fire fully clothed with hats on their heads and without delay. But in the end, not a hair on their heads was singed, the fire had NO effect on their bodies or clothing (even their hats!), and when they came out of this furnace of blazing fire, they didn't even smell like smoke.
Our this and that may look different, feel different, and even smell different—but make no mistake about it—He is with us in our furnace of affliction even as He was with them. They could have spent their time and mental attention focused on their hardships or even their losses, but their sense of this and that focused on the timing and purpose of God's perfect plan. The result? For this reason at that time, the one true God became known as the One who is with us in and delivers us through the fire!
This REASON? His love, abundant and free; His mercies, new every single morning in spite of our circumstances; and His salvation through the fires of uncertainty, temptation, and even loss. And for this reason, the women we serve in Africa, Asia, and the Middle East are singing for joy. Why? Because they take refuge in Christ and He does not disappoint. He is with them in the fire of their affliction. And He is using YOU as part of our team to cover, to shelter, to equip, empower, and to exult along with them!
And THAT TIME? Well, here at Women in the Window International we believe THAT TIME is Now!
Yes, we are living in a time that will also be noted in history. The global pandemic of 2020-2021 has touched every life on the planet and undoubtedly altered the course of history. In days to come, it will become known as "that time," when our Women in the Window ministry partners across the globe suffered in silence. Because of YOU, they are now rejoicing and Journey from Trauma to Triumph.
Here are just a few inspiring "this and that" stories of women in Asia, Africa, and the Middle East and how YOU have been an essential part of their deliverance through and out of their own fires of affliction:
ASIA
Growing Together! Just one year ago, women in India reported that they were Suffering in Silence. As a result of WiW, 92 women have participated and now we are hearing a VERY different report. Just listen:
Trauma Intervention training has been a great blessing for me. All the sessions are useful, but the lesson of suffering has proved to be very helpful for my personal life. I needed this kind of encouragement for my current state of mind and God, the Father, has spoken to me through this training. For this, I thank the Lord very much
Your prayers and investment are making a tremendous impact on the lives of women in India!
The Journey from Trauma to Triumph with all trainers & participants was exciting, surprising, active, eye-opening, creative, expressive, encouraging, enhancing, challenging, practical and Blessed. ~Women in the Window Regional Ministry Associate, Mrs. Koki Desai
"Thanks a ton for considering me for this training. A few years back I remember I just prayed once and said Lord if it is your will, I want to do a counseling course and then I forgot about it. And He fulfilled the desire of my heart. I am thankful to God as well as to you whom He is using magnificently. I am blessed beyond my expectations."
"Women in the Window should organize more and more training sessions and may God give me the opportunity to be a part of these lovely trainings."
AFRICA
Rejoicing together! WiW partners with Nyanam International in the Horn of Africa for a narrative inductive Bible study training and the Voice of Change curriculum launch. Voice of Change brings hope to these widows as they recognize they are NOT alone and their voice matters to God.
In the past year, in spite of Covid-19 limitations, Women in the Window in partnership with Jackie Odhiambo of Nyanam International has advanced the Kingdom of God among the widows in Kenya. As of January 2021, outreach has grown from less than 100 widows in late 2019, to more than 300 widows.
The first training of several planned and budgeted for 2021, provided an opportunity for Nyanam to launch their Voice of Change curriculum AND for the widows to benefit from the biblical view of widowhood. They know with great insight and intimacy that God loves widows. And they learned that they can design social change projects to improve their lives. YOU are making a difference in Africa!
Prisca, "I have looked into the Bible, like a gardener tilling her farm. I realize that I hadn't been taught how to study the Bible well. It seems those who have been teaching me the Bible haven't done it well. I have welcomed this training, God bless you!"

Esther, "I have learned today that no matter the challenge I go through, I should remember that I am not alone. Our issues may be different, but when I return to my leadership circle, I want others to know that they are not alone in their suffering, they are with God. And for young widows, I will remind them that they shouldn't feel forced into leviratic marriage, the have the power to make a decision that is right for their life."

Mary, "I have learned the value of understanding the depth of the word of God and applying what I have learnt in my life. I plan to teach those who are ready to listen, starting with my leadership circle, and then my church. I will teach them using the method that Women in the Window used to teach us. This type of training should be happening constantly so that we don't forget what we have learnt, and the lessons can carry forward."
The Middle East and North Africa (MENA)
Learning Together! Women in the Window International continues to rejoice in our multiple opportunities to learn and grow with women in the MENA region. We were honored to provide point leadership for the annual Women's Working Group sessions as we gathered from the Middle East and North Africa. But this time, we met online and have plans to meet again at the conclusion of Ramadan. Pray with us that God will visit Muslims during Ramadan in dreams and visions to reveal Himself as the way, the truth, and the life—John 14:6.
Here are a few of the comments we received from recent MENA trainings and events:
I got a clear message from God and it renews my strength to Serve others. Bless you.
Thank you so much WiW for this beautiful and blessed time together!
This time was a blessing and looking forward to sharing with others.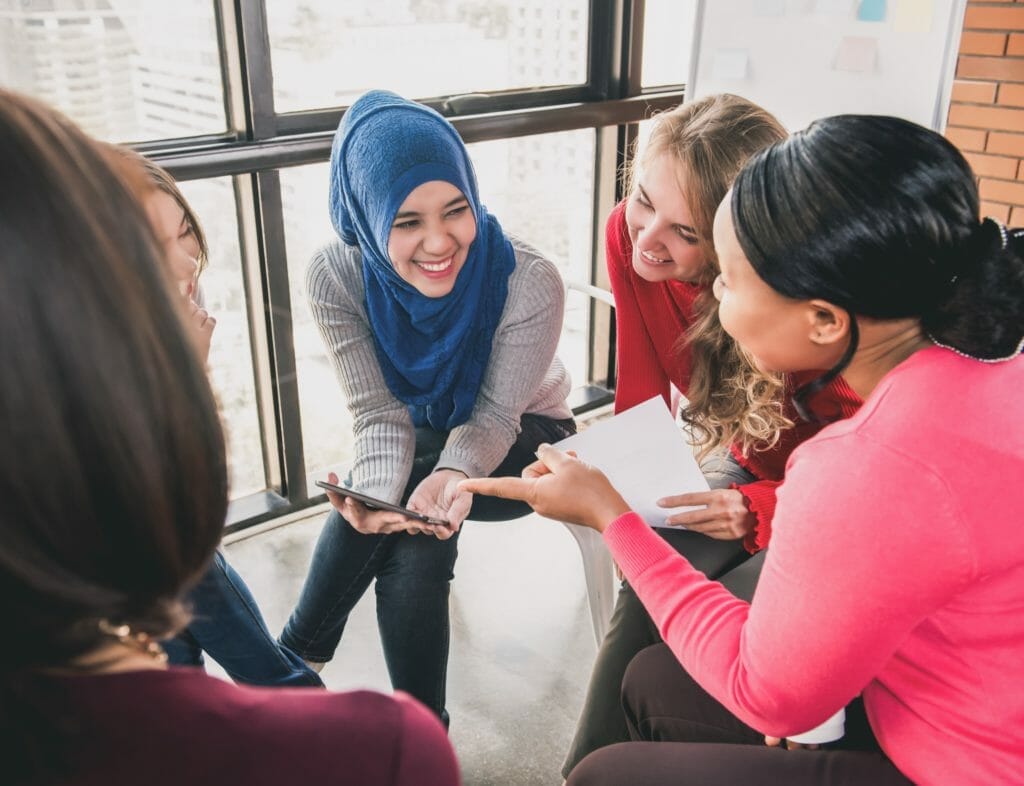 We NEED YOUR help with these upcoming training events and projects:
Health training for refugees in the Middle East
Micro-business for women in war-torn Sudan & South Sudan
Servant Leadership and Spiritual Life training for women in North Africa
Two by Two times 100 in Asia—Women in the Window is growing across Asia. We are multiplying the impact of our partnership and impact across Nepal to reach women in five different training locations. Their women are multiplying as well:
India! Our WiW Regional Ministry Associate provides oversight for the entire subcontinent. Her growing leadership team is multiplying to the north, south, east, and west …
Gather & Grow—a quarterly WiW online training that is connecting women across cultures and generations with practical and powerful training plus great fellowship. The next Gather & Grow includes Kitchen Gardens and how to provide sustainable food sources.
Essentials is now being translated into Arabic, Farsi, Hindi, and French