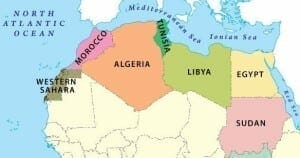 For I long to see you, that I may impart to you some spiritual gift to strengthen you — that is, that we may be mutually encouraged by each other's faith, both yours and mine. Romans 1:11-12 (ESV)
God continues to open doors in the 10/40 Window for Women in the Window International. We are thrilled yet mindful that we need prayer like never before. Please remember our North Africa team in prayer as they depart tomorrow, Friday, October 17. They will be traveling to three nations (names withheld for security) to lead spiritual development, leadership, and health trainings. And North African women will fly to a neighboring nation to join them. The Ebola virus is not a concern in North Africa; however, our team is traveling to nations that are almost 100% Muslim. Therefore, they must go about their work with an extra measure of cautious wisdom. Pray that they will be the light of Christ yet remain hidden in Him.
Travel & Training Schedule
October 17-18 Travel days
October 20-26 Leadership development training in first nation
October 26-27 Travel days
October 28-31 Leadership development and health trainings in second nation
November 1 Travel day
November 1-2 Exploring future options with Diaspora North African women
November 3-7 Health training in third nation
November 8 Travel day
Prayer Requests
Pray for safety while en route, good health, and that all luggage and training materials will arrive without delay (Psalm 121).
Pray that the trainings will "equip His people for works of service, so that the body of Christ may be built up," especially for the indigenous women leaders of nearly 100% Muslim North African nations (Ephesians 4:12).
Pray that our team will impart spiritual gifts to make the women strong, that we will be mutually encouraged by each other's faith (Romans 1:11-12), and that all trainings will be reproducible and sustainable.
Pray that the Holy Spirit will impart His presence and a strong spirit of unity among our team, our ministry partners, and the North African women so that our relationships will deepen and bear much fruit for eternity (Psalm 133).
In Christ's love and joy,
Kim