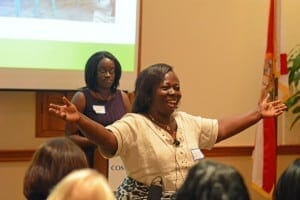 The excitement was almost palpable as we gathered under the stars for Women in the Window International's inaugural Evening in the Courtyard on February 20!
We are grateful to God for His Presence among us, as inspiring and informative conversations took place throughout the courtyard at each table assigned to one of our capacity-building strategies. Inside, the program for the evening included our Event Chairwoman, Ms. Amelia Biney, interviewing our overseas guest, Mrs. Paulina Kumah. Both Ghanaian women radiated the love and purpose of Christ as they told the story of Christ's love for women, evidenced in the Gospel of action and words, in some of the hardest places in the world, within the 10/40 Window of Africa, Asia, and the Middle East.
Paulina even graced us with a song, "Because He Lives," and included all present in singing the chorus along with her. Indeed, Because He Lives we can face tomorrow with great JOY!
It's impossible to measure all that the Lord did that evening, but below you'll find just a few brief comments and commendations, along with statistics. Please continue in prayer that we will reach our goal for the upcoming Women in the Window trainings of 70 women from 7 African nations to be conducted in the Gambia and Togo, just a few weeks from now!
Attendance and Support:
We had 95 seats filled and people standing along both sides and into the back room, for approximately 150 in attendance! Of that group, 45 were brand new to the ministry.
$2,500 in sponsorships, which was exactly what we needed for Paulina's travel expenses.
We raised approximately $4,500 for the Africa women's trainings to be held just a few weeks from now. Please pray for the remaining $16,000 needed to be provided right on time! Please contact us if you'd like to help reach this goal.
Comments and Commendations:
From Annie, one of our faithful Evening in the Courtyard volunteers: "I was so moved, in praise and in gratitude. A rousing success! Seamlessly planned and executed."
From Anne, a first time attendee: "Thank you for such an enlightening evening. Your mission is so impressive and you are a perfect gift to the world of women."
Thank you for your prayers and your support! May God richly bless you and multiply your gifts of grace and service, so that women in the 10/40 Window, where oppression and injustices prevail, will become beautifully equipped and wholly empowered by Grace.
In Christ's Love and Joy,
Kim