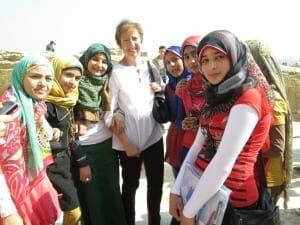 Women in the Window International is delighted to introduce our featured volunteer, Janet Simcock. Janet hails from the UK, and we are so thankful that women from across the US and even Europe have a heart for our ministry to women in the 10/40 Window!
Janet, a pharmacist, is especially interested in releasing women into leadership roles and healthcare. Her personal ministry strategy includes a combination of practical help with spiritual input. As evidenced by the picture here, she says, "God has given me a mother's anointing, which involves spiritual mentoring and demonstrating an increased heart of love."
We hope you will enjoy learning more about Janet in the brief interview below. If God is leading you to serve or travel with WiW, please learn more about our volunteer opportunities and contact us!
Janet, what compelled you to serve with Women in the Window?
I regularly led teams to India for many years, but God told me to hand that over to someone else about two years ago. I knew I would still take the occasional team to India but I also knew that there was something different I would get involved with. It was while leading a prophetic team in India in November 2013 that I met Kim Kerr. We had a brief conversation over dinner that led me to think that Women in the Window could be the next ministry for me. Kim invited me to attend a health conference in January 2014, where she and WiW Volunteer Health Coordinator Ila Swick gave a sample of health lessons to women from North Africa and the Middle East. In observing this conference I decided that I would love to be involved in future trainings.
What has been the most enjoyable aspect of your volunteer experience so far?
I traveled to Egypt with Women in the Window in November 2014, and the highlight of my experience was the divine connections I made with individual women there. Four women in particular stood out as God gave me special words for them. I gained new sisters and daughters in Egypt. I also met a very special little girl who lives in the Garbage Village, located in Cairo, and she attends a special needs school there. She could not speak but was such a bundle of joy.
What's one of the most interesting things you've learned about WiW's ministry?
Women in the Window is in the business of empowering women and enabling them to step into all God has for them. Yet WiW is not just about delivering training; it's about relationships. The aspect of the WiW ministry that I love the most is the overarching environment of encouragement, love, and support.
Where have you traveled with the ministry and how did that trip influence you?
My trip to Egypt has given me a new burden for the Christians of North Africa and the Middle East. Women in these cultures are often treated as slaves or even objects. My vision for the future is to develop the health lessons on godly beauty and value so that women can have a fresh, deep, and intimate experience of how much God loves them as daughters. Such a deep deposit of God's love would then become their well flowing out into all the other relationships we talk about: marriage, children, neighbors, and community.
What is a passage of Scripture that has special significance for you?
Philippians 3:12b has been inspiring me for years: "I press on to take hold of that for which Christ Jesus took hold of me."