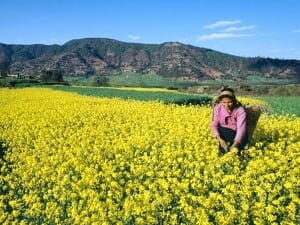 "As the earth brings forth its sprouts and as a garden causes that which is sown to spring up, so the Lord God will make righteousness and praise spring up before all nations."
Isaiah 61:11
Spring is a welcome change to the almost unheralded deadly winter storms experienced across America this year, with record level snowfalls throughout the nation including the Deep South. As seasons change and usher in new life and growth on many levels, so the changes within communities and nations bring about the welcome change of the Lord's righteousness and praise among all nations! We look to the Lord for the work that only He can do in changing times and seasons, yet He invites us to join with Him in this wonderful work of sowing, watering, and reaping His harvest of righteousness.
Women in the Window International is actively sowing the seeds of the Gospel among the nations through our strong relationships and growing partnerships with women leaders in the 10/40 Window. Women in hard-to-reach nations, where their lives are at risk daily, are eager to receive this training and to serve the Lord wholeheartedly with us.
Women are strategically placed to bring the Good News of Christ's love in through the "back door" of Muslim, Animistic, and Hindu communities — impacting women, and through women, children — that will never be reached through traditional evangelical methods. These women are a strategic part of the ministry force within their home churches and outreach ministries, along with their husbands and other key male leaders. Together, they enjoy the blessings of the Lord's garden bearing fruit, more fruit, and much fruit that remains for all of eternity!
As you enjoy the beauties of Spring, and prepare our hearts for the coming of Easter, we implore you to take time to invest in the ministry through your prayers, and if God so leads, through your offerings as well. We now have online giving available and would greatly appreciate your support to fulfill this essential mission of bringing His righteousness and praise to the nations of the 10/40 Window.
Yours because I'm His,
Kim
Pray with us:
Advocacy action plan on behalf of women experiencing injustices because they are women, and increasingly because they are Christ followers under persecution! Ask the Lord of justice to help us develop and implement trainings to relieve these horrible injustices.
70 women leaders from 7 West African nations will receive Biblical, Health, and Micro-enterprise training in the Gambia and Togo in late April and early May. Pray for God's provision and for our team of trainers: Jackie, Helen, Edna, Paulina, Sherri, and Kim, a cross-cultural team of trainers from Africa and America!
Praise Him with us:
Open doors of opportunity as we have been invited to bring trainings to women leaders in Egypt, Algeria, Morocco, Israel, India, and other nations this year.
Women leaders are eager to develop strategies that include children's teaching and outreach. Rejoice with us as we extend our hands to touch the next generation!