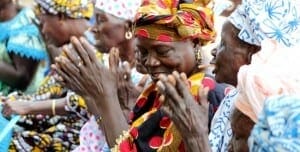 "Before they call, I will answer, and while they are still speaking, I will hear." Isaiah 65:24
The women of West Africa have called out to the Lord God because of their plight of poverty, persecution, and oppressive practices against women and children. Our West Africa team, Jackie Hilliard, Sherri Johnston, and Kim Kerr, is departing today, and we believe God is using them to be an answer to the cries of the African women's hearts! They will lead a training in the Gambia for 70 women from 7 nations, and a training in Togo for 35 women before returning to the US on May 8th.
They are excited to work with our excellent ministry partners in West Africa, and eager to be with women whose lives have already been impacted through training; to see their faces and hear their stories. They are also eager to see how the Lord will strengthen ministries and deepen relationships with women who are positioned to make a difference in their nations by leading many women and children to a personal knowledge of the Lord Jesus Christ!
It will be an immense privilege to see the Lord take the final version of the Women in the Window Bible study as a training of trainers tool. God loves to do immeasurably more than we can ask or imagine (Ephesians 3:20) and we are asking Him to do just that among the 70 in the Gambia. And we are especially excited about Togo as we have been encouraged to come for the past 5 years and now the Lord has cleared the way for us to go!
There's no better way for us to grow closer to God and learn about Him than to see how He moves among His people throughout the world! We are excited to see the changes that will happen in all of us from the time we arrive in the various countries until we leave. We can only imagine what wonderful things He has planned for the women and for us! Thank you for your prayer support as we embark tonight, arriving tomorrow night in Africa!
Serving Him with Joy,
Jackie, Kim & Sherri
Prayer Requests
That God's Spirit will actively be at work as we come together in the Gambia and Togo to serve Him and the women leaders!
The women's leadership trainings will go smoothly and will have a lifelong impact on the participants, and those whom they will impact.
Grace, strength, and wisdom for the trainers and trainees.
A spirit of unity and joy among our WiW team and with our ministry partners.
We will have open eyes, ears, and hearts to hear from God and learn from Him.
We will receive the unexpected (which is expected while traveling!) with joy.
Protection over our families while we are away.